Hi Honey, I'm Home! (posted by Lani)
OK, so I actually got home last night ... I'm home, and that's what counts. Warning: long post ahead!! Quick summation of the end of last week: Thursday night we had our final exam (I got 100, thankyouverymuch), then did a simulated "planned water evacuation" (planned: you know it's coming and have a few minutes to brief passengers/prepare), actually opening the emergency exits and bailing out of the plane onto the wings, and then off the wings into the "water" (read: jumping onto the concrete of the hangar floor), seat cushion flotation devices clutched firmly to our chests. From the wing to the hangar floor is a fairly long way. Owie, I hurt my foot; two toes rather well jammed and turning purple by the time I got home. (I wasn't the only one who got banged up doing that little exercise, btw.) Friday night I limped back in for our simulated "unplanned evacuation" (unplanned: you have no clue it's coming until it happens), on which you must score 100; piece of cake, that one was. We all got done, got our diplomas, got our wings, and at approximately 1:30 am Saturday morning we were free women. Well, at least until our IOEs. Graduation pics incoming; from left to right our two instructors, Joelle and Ken (you'll meet Joelle again later in this post), Karen pretty much sums up how we felt at that point (aside from sleepy), and a group pic of the younger girls in the class with their wings (they look so happy and bright and shiny and YOUNG, don't they??):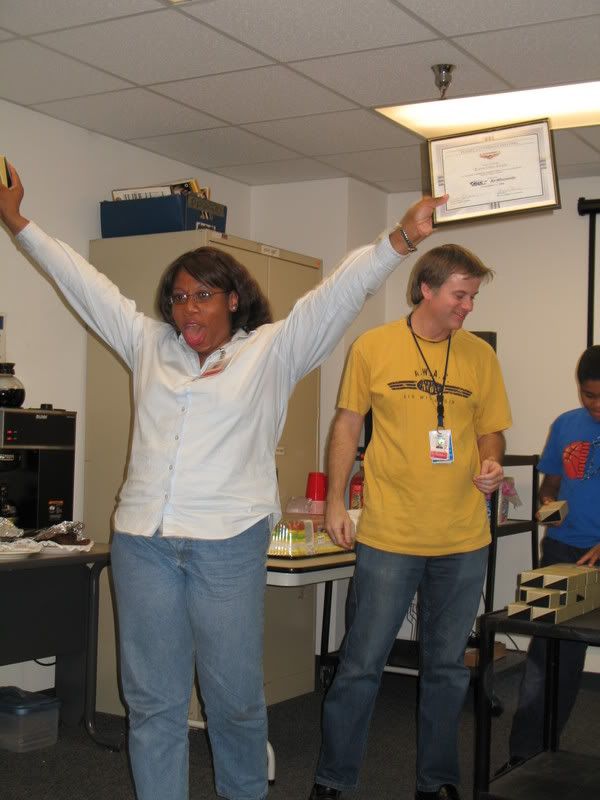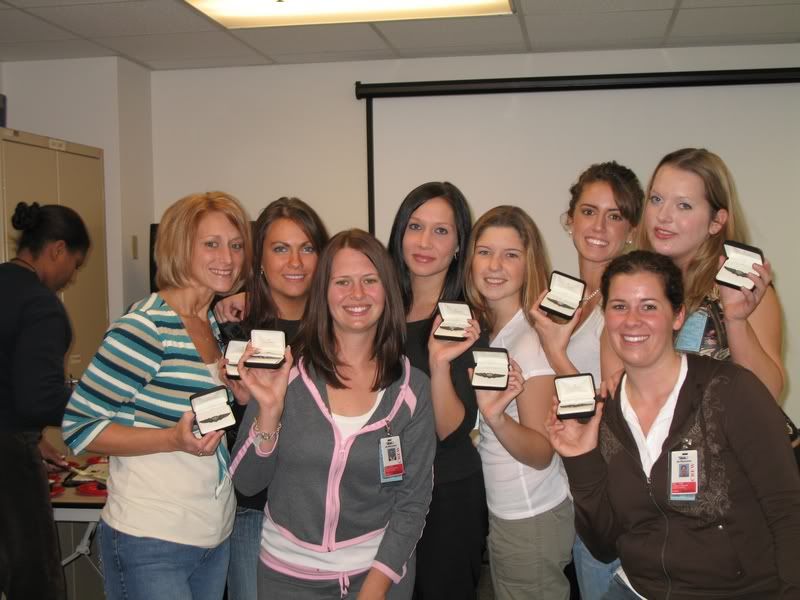 Home and to bed I went, lazed around Saturday, and then the fun began. Here's how my last 4 days were spent:
On Sunday I limped off to the airport and flew from Norfolk to Washington DC, where I met my IOE instructor (Cynthia) and crew (pilot Carl and FO Brendan) towards the end of their day. We left Washington for Providence, Rhode Island where we overnighted. Dinner in the hotel restaurant because it was easy and convenient (and, happily, quite good as well).
On Monday we got up in Rhode Island and left the hotel at 5:15 am to head to the airport. Breakfast? What breakfast? At 5:15, nothing is open. We all had a protein bar and some coffee. We then flew to Pittsburgh (snow showers, brrr), from Pittsburgh back to DC, from DC to Louisville, KY, from Louisville back to DC, and then from DC to Raleigh, NC for our next overnight. Dinner that night in the hotel bar, which had great burgers and salads -- we were starving but WAY too tired to actually go anywhere to eat, the only question was whether to meet downstairs or all order room service. My foot? Oh yeah. Swollen like a football and hurt like hell. Ice, ibuprofen, and I was glad to fall into my bed.
Tuesday was our "vacation day"; we caught the hotel van at 5:55 am, flew from Raleigh to Laguardia, did a quick turn and came back to Raleigh. We were back at our hotel by 11:30 am and done for the day -- and we needed the rest, because we all knew Wednesday was going to be brutal. I put the still-swollen foot up for a few hours and then we had a late lunch/early dinner at a great little bar/restaurant called Charley's in Durham that's owned by the boyfriend of another employee and offers Air Wisconsin crews a great discount. I can tell you that discount or no I'll be going back there ANY time I'm overnighting in Raleigh, because it was just plain food, and really, really good. Their blue plate special was meatloaf and smashed potatoes and corn, pure comfort food, and I promise you that we all joined the clean plate club. We were back at the hotel by 5:30, I did the ice/ibuprofen drill again, and I was sound asleep by 9.
Wednesday morning onto the van again at 5:55 am for a brutal day; every leg was a quick turn (meaning no time to get off the plane to eat or even hit a non-aircraft lavatory, you smile politely while the passengers exit the plane, run like a maniac through the plane cleaning up leftover trash and crossing seatbelts, and about the time you hit the back of the plane the new bunch of passengers is impatiently waiting to board). We flew from Raleigh back to DC, from DC to Indianapolis, from Indianapolis back to DC, from DC to Hartford, CT; from Hartford back to DC, and finally (for me, at least) from DC home to Norfolk just before 5pm. Cynthia, Carl and Brendan had yet another leg to go, back to DC where they're based, before they could head home -- for Cynthia and Carl that means a flight to Chicago, for Brendan it's Charlotte.
So how did it go? It was fabulous. My crew was the greatest; genuinely nice people, lots of experience there and very patient with the raw beginner, very helpful in teaching me the ropes and incredibly generous with all the little tips and tricks that save time and sanity. Cynthia was the best IOE instructor I could possibly have gotten; about my age, smart, funny, very very knowledgeable, willing to let me learn, and do, at my own pace. The last three legs of the last day were the most stressful, because (a) I knew the last leg was my actual competency check, and (b) my foot hurt like blazes, and (c) let's make it all even better, as we were boarding the Hartford flight in DC I looked out and Lo! that face looks familiar -- oh (insert your choice of bad words here) it's Joelle, and she's in uniform with ID which means this isn't a pleasure trip, she's here to observe. And she was. So I got to make my last 3 flights with not one but TWO observers, and Joelle is tricksy; she tried all sorts of little things on me from ordering liquor (sorry, you're on duty/in uniform so not allowed to drink) to hiding the fact that her seatbelt wasn't fastened by draping her jacket over it (I was on to her by then). She's a great person though; she spotted me still limping, and after we took off from Hartford ordered me off my feet and into her seat for the remainder of the flight. SHE got up and helped Cynthia finish that leg, which I love her for; I would have toughed out the rest of that leg and the Norfolk run, but it would have been just that, tough. With just that little rest I was able to sail through the Norfolk comp run -- and my IOE was done.
In the end? I passed, my crew all hugged me and said sweet things, Steve met me at the airport, we gave Joelle a ride back to her car at the hangar, and I came home totally exhausted. It was stressful, it was really, really tiring, BOTH my feet hurt at that point, and it was an incredible experience.
Things I learned: Providence is absolutely beautiful in the fall, especially from the air (but also on the ground). I want to go there sometime when I can take the time to explore. It's really really neat in a weird wow-I-didn't-realize-I-was-this-patriotic way to stand at the door of your plane in Washington in a rare calm moment and look out and see all the monuments spread out in front of you, so close it seems like you could touch them. The hotel in Raleigh isn't, it's in Durham, and it's too damn far from the airport. The company puts us up at some really nice hotels (thank God). There are a lot more people flying armed than I ever knew (from FBI to DEA to Federal Air Marshals to pilots who've gone through the training and certification process to carry guns in the cockpit) and you'd never know who they are by looking at them. Passengers are people, and people are, generally speaking, pretty good folks. I really, really missed home, and Steve, and Onyx sleeping stretched out against my side, and Hunter and Jasmine playing, and Jesse making happy birdy noises and telling me he loves me, and Pippen leaning against me while I pet her, and sleeping in my very own bed. And I really, really think I'm going to like this job. Let's hope I get a quick transfer back to Norfolk so I can keep it.