42! (posted by Lani)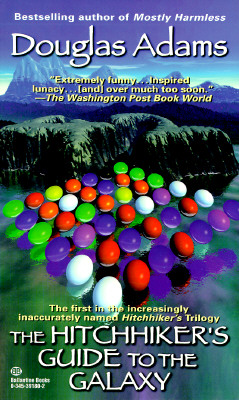 You're The Hitchhiker's Guide to the Galaxy!
by Douglas Adams

Considered by many to be one of the funniest people around, you are quite an entertainer. You've also traveled to the far reaches of what you deem possible, often confused and unsure of yourself. Life continues to jostle you around like a marble, but it's shown you so much of the world that you don't care. Wacky adventures continue to lie ahead. Your favorite number is 42.

Take the Book Quiz
at the Blue Pyramid.
I think it's absolutely hysterical that this is supposedly the book that describes me. I'm not sure I'm "one of the funniest people around" or "quite an entertainer", but the rest of this is pretty spot on. And I do hope that wacky adventures continue to lie ahead, they make for great stories. Just so long as no one wants to build an intergalactic overpass through our neighborhood ...
I've been a bad, bad sister/blogger lately, and I really am sorry. Between real life, work, and something I'll go into more detail about in just a bit here, I've just not taken the time to blog. Nothing wrong other than laziness! I have, however, read your posts with great interest and also with great concern. Steve's been doing really great with the running, and I'm just blown away with how much he's grown up and how mature he's looking. I HAVE to get up to Chicago to see ya'll at some point soon, I feel like I don't even know him any more. As for the concern? You're having 76 teenagers, plus assorted parents,
IN YOUR HOUSE.
Have you totally lost your everloving mind? Honestly, I'm not sure whether to nominate you for sainthood or have you committed as a danger to yourself. On the up side it does sound as though you're prepared, or at least as prepared as it's possible to be for that type of natural disaster. Take pictures and let me know how it goes -- I'm rooting for you here.
Nothing exciting happening with us in either real life or work; I've been flying, Steve's been working on the rollout of a major new project with all the attendant ripping-out-of-hair and gnashing-of-teeth. I had hoped to be in Arlington today to see the Yarn Harlot but that didn't pan out, so instead I'm going to go to Lexington in the morning and see Jim. It's a short visit and I've got a busy schedule once I arrive; on Friday lunch with Jim and Ethan and dinner with Ethan, Josh and Jessie (Jim's working), then on Saturday brunch with Jim and back home. I'm hoping to work in a trip to the Talbots outlet (because, as Steve points out, obviously the fact that the rod in my closet
collapsed
means that I don't have enough clothes) and also do a little sightseeing.
As to that mysterious something that's kept me busy ... have you heard about
Ravelry
, Ann? What is Ravelry, you ask? It's a crafter's website, but it's more than that. Much, much more. Ravelry lets you:
Use it as a planning journal. You can list the projects you're working on now, and create a queue of projects you want to do in the near future.
Use it as a database to list the yarn in your stash, your hooks/needles, even your books and patterns, so you know what you have.
Look around and see what other knitters or crocheters have in their current projects and stash (they can see yours, too).
Join groups with similar interests and interact, if you want to ... or don't, if you don't. You never have to make a single Ravelry post if you don't want to.
If you have a pattern you're considering you can see if others have made it, what yarn they used and how much, pictures of the finished object or the work in progress, how they liked knitting it, what changes or modifications they made to the pattern as written. This is probably my very favorite part; if a pattern is poorly written or the end result fits poorly, I can find out BEFORE I make it.
If you have a gorgeous yarn and you're wondering what to do with it, you can look up what other people have done with that yarn. This is another favorite for me.
Here
is even more info. I suggest that you sign up while you're there. After all, it's free ;)
Oh yeah, and I've done a little knitting; a handful more dishcloths (they're quick and easy stress-relievers)
and a couple of scarfs. I'm particularly fond of this dishcloth; it's so pretty it's almost a doily! And regarding scarfs, I discovered Malabrigo yarn. I'm in love. One day I shall have a room devoted entirely to my stash of Malabrigo, and I shall roll around naked in it just because I can. OK, so I won't do that, how unhygienic. Blech. But that's how soft and decadent and wonderful it is. Obligatory scarf pictures follow; the pink one that Onyx is modeling for us is the Malabrigo, and it's wonderful, both the pattern and the yarn. (The pattern is
Becka's Touch of Whimsy Scarf
, and I highly recommend it.) Jasmine prefers the
Multidirectional Diagonal Scarf
, a nifty, easy pattern that's fun to knit. Not the best yarn choice to show it off as it deserves, but it's what I had in stash.