Hummingbirds and Dishrags ... No, Really. (posted by Lani)
Remember that children's song, the one that went "I'm bringing home a baby bumblebee"? I brought home a baby that wasn't much bigger than a bumblebee yesterday, but he was much greener, and had a long beak, and a cute little tail, and also had a complete inability to fly. Yup, for about 24 hours Steve and I were foster parents to a little broadtailed hummingbird. He's safely at a wildlife rescue facility now, but man oh man was he a cutiepie. He was bright-eyed and perky and drank nectar straight from my finger because he had NO clue how to drink from a feeder, but apparently a finger dipped in nectar was an acceptable substitute for mama -- and we fell in love.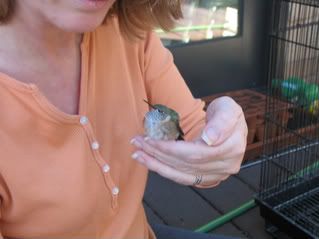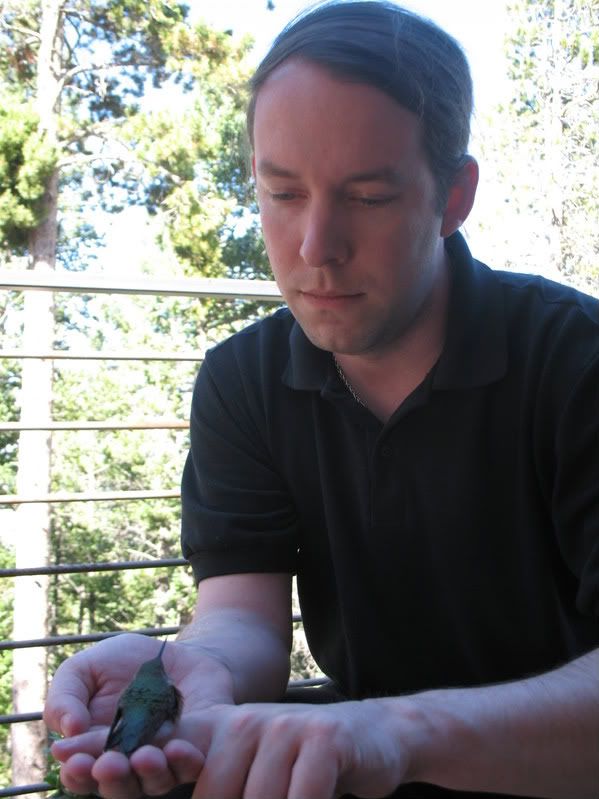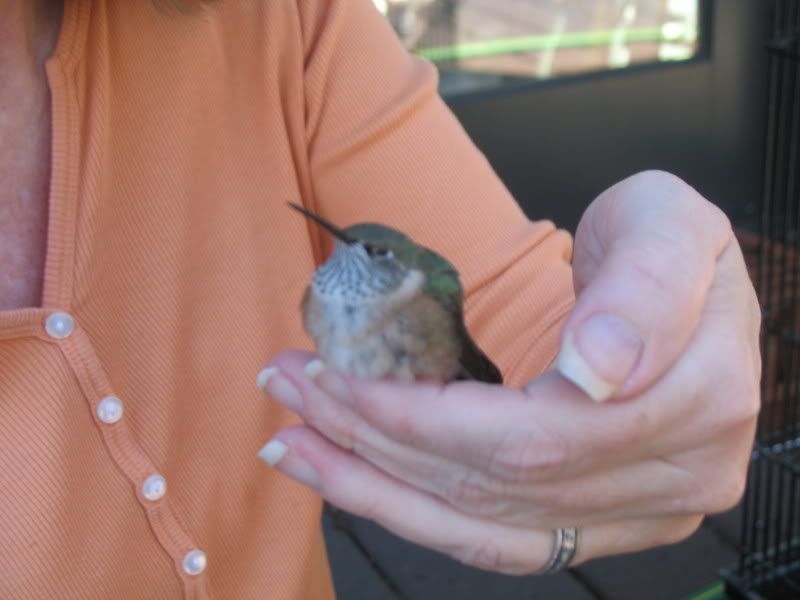 When he appeared fluttering and cheeping on our deck yesterday at around noon, we hoped that his mama would show up soon. Unfortunately she never did, so after a while I went out and tried to get the baby to eat -- which was when I discovered that my finger worked just fine as a baby hummingbird feeder (they have LONG tongues, and they tickle, by the way!). After a few hours it was apparent that mama just wasn't going to come, and it was also apparent that no matter how hard he fluttered this little guy wasn't flying anywhere. So, into Jesse's traveling cage he went for the night, and this morning back onto the porch in the vain hope that mama would show back up. No such luck, so around noon baby and I trekked down to Longmont, to the
Greenwood Wildlife Rehabilitation Center
. The fabulous folks there have taken our little buddy bird and will try to nurse him to maturity; once he's able to fly and take care of himself he'll be released back in the mountains to make the annual migration with the other hummers.
In other news, when I arrived home at midnight Tuesday night my Dishrag Tag box was waiting for me. I had promised Emily (in return for the right to SLEEP after arriving home at midnight Tuesday night instead of knit) that I wouldn't open the box until mail arrived on Wednesday, and so I didn't ... and let me tell you that was hard. When the mail arrived at 1 o'clock I was ready and then some; I ripped into that baby, pulled out the cutest set of Ikea measuring spoons and a recipe for Brown Sugar Muffins (thanks Emily! Now I know what we're having for breakfast Saturday morning!), and then out came the pattern and the cotton and we were off. Roughly two hours later (I am, as you know, not a fast knitter) I bound off, repacked the box with goodies and a new ball of cotton, tagged our next team member, and I was off to the post office. And now I'm on the sidelines cheering on my team ... how's your race going?