Ack. Yow. (posted by Lani)
You know, you should really never try calculating just far much you have done on a project unless it's a project like a shawl that starts at the large end and gets smaller as you go along. Trust me; leave well enough alone. Look at your pattern, see that you're on row 51 and there are 82 rows, and go WOW! I'm over halfway done! I am COOKING! Blithely ignore the fact that you're working in rounds, and that since each round is larger than the last at row 51 you are obviously nowhere NEAR halfway done. Truly, ignorance in this case is bliss. Because otherwise you'll be like me and you'll start getting curious about just how far along in this pattern you really are -- you'll be feeling pretty cocky, I mean, you ARE on row 51 out of 82, and you've even been weaving ends as you go so there'll be none of that left at the bitter end -- and you'll find out that in all actuality you are only, give or take, just under 39% done. Then you'll curse yourself for being an idiot and go mix a stiff drink and perhaps engage in a little retail therapy and not touch the project again that night.
Here's the current status on the Stitch Sampler afghan; it's looking good, if I say so myself.
Why yes, it's at the end of row 51, why do you ask? Seriously though, despite my letdown over discovering my actual (lack of) progress I really do like this pattern more and more the more I work on it; I have a feeling I'm going to make several of these (without calculating actual progress ever again, of course).
My window-shopping version of retail therapy was going to KnitPicks and loading up my shopping cart with all the toys and goodies I'd buy if I won the lottery tomorrow. Not yarn, I think we've established that I have enough of that for the moment (cough cough, not that it stopped me from browsing their gorgeous new yarns and there are even some kits that are tempting, look at that Mix & Mingle throw kit, love the New England colorway -- gah, somebody slap me), and definitely not patterns, my WIM list is longer than my arm, but ... oh, the Options needle set, with extra cables in the 40, 47 and 60" lengths; and some extra needle pockets; size 1, 2 and 3 classic circs in the 24 and 32" lengths, now I'm going to need more extra needle pockets; those handy needle size id tags, how cool are those; a view sizer, I seriously need one of those; the chart keeper, that thing is purely the bomb for lace knitting, I must own one ... oi. I saved my cart, because one day I'm going to just go buckwild crazy and hit that Proceed to Checkout button and buy it all, but for now reality in the form of my brain suddenly waking up and going WTF! YOU DON'T NEED ALL THOSE NEEDLES, YOU IDIOT, WHO DO YOU THINK YOU ARE? THE YARN HARLOT?? EUNNY JANG?? WAKE UP! kicked in. My brain is such a party pooper.
So, what else? Ta-da, the T&Q Chenille afghan, finally done.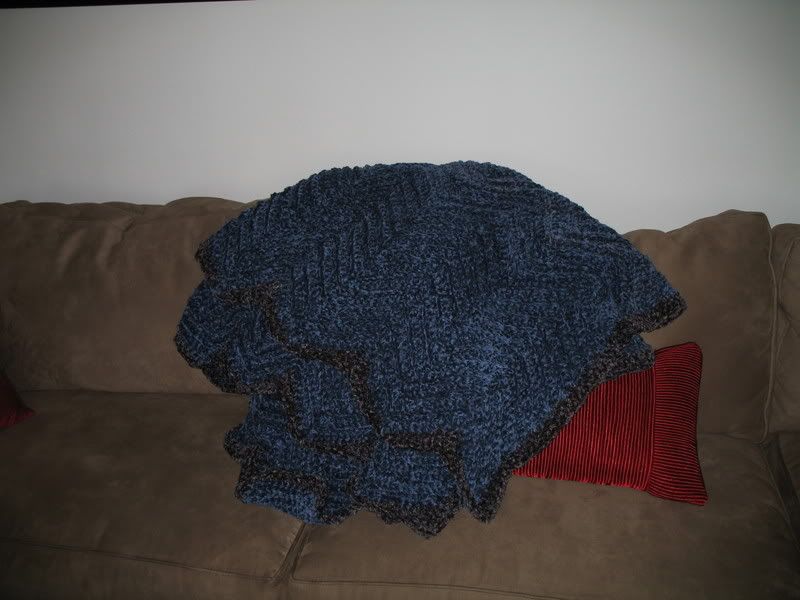 I'm not ecstatic over it but I know the recipient will love it so I can live with it. It's intended as a 'ghan to snuggle under on the couch in the dead of winter, and it'll be perfect for that. This yarn feels like velvet worked up and I do love the heavy, velvety feel but I just don't like working with chunky yarns and this qualifies. Lighter-weight chenilles, yes; this, no. Never again.
In other news I decided that I'm not happy with the colors in the yarn I dyed the other day; it's brighter than I had anticipated, so I'm going to overdye it to tone down the colors. While doing that I'm also going to dye a skein of sportweight with
this shawl
in mind; lace worked in sportweight instead of lace-weight is lace that's right down my alley, I tell you what, and this is a one-skein project and I just happen to have one lonely skein of dye your own sportweight merino that meets the yardage needed to a T -- it was obviously meant to be. It'll be a nice portable project too, the pattern looks easy to memorize and I'm going to need one of those to take with me to class.
In NON-knitting and crocheting news, I bought a ton of tulip and daffodil and narcissus bulbs to plant this year; every year I look at all the beautiful bulbs coming up in other peoples' yards and gnash my teeth because I didn't plant any myself. Well, not this year! I'm going to have an orgy of bulb-planting in a couple of weeks, and come next spring MY tulips and daffodils will induce spasms of envy in all who pass my way (such is the theory, at any rate). I also succeeded in my quest to find comfortable, reasonably stylish black pumps for work, hurray.
And speaking of work, a few more days of wandering around the house gesticulating like a madwoman while looking the cats dead in the eye and saying things like 'Please observe as I point out the features of our safety briefing card, seatbelt, and oxygen masks," and "As a reminder, smoking is not permitted in any area of the aircraft, including lavatories," and "YOW, Ottawa International, Ottawa, Ontario -- ART, Watertown Municipal, Watertown, New York -- ACK, Nantucket Memorial, Nantucket, Massachusetts" (please note how easily one can associate things like YOW and ART and ACK with their respective towns and airports, i.e., not easily at all, did I mention this is all rote memorization?) and I'll be good to go. The cats think I've finally lost my last marble. The cats may be right. ACK. YOW.