Oops, I did it again .. (posted by Lani)
Well, Annie, you know how I wasn't going to buy any more yarn, because my stash was growing to monumental proportions and Steve was already afraid to enter the Pit of Doom a/k/a spare room? Well, um. I don't feel good, and I wanted chicken soup (note my shameless ploy for sympathy before I make my confession) and the thrift store is right by the grocery store, and I had to go to the grocery store to get parsley to make my soup because the heat purely killed my poor parsley, and, well, on the way to the grocery store I had a little accident involving my credit card and my willpower and some yarn. Would you believe that I was innocently walking by the thrift store when I was overcome by wool fumes, and I staggered inside hoping for relief only to be attacked by evil, manipulatory bags of wool, but despite my desperate plight I was steadfast in my determination not to buy yarn until I slipped, and my credit card flew out of my purse and into the hands of the cashier, and before I could say NO! NO, DON'T DO THAT! I DON'T NEED MORE YARN! she swiped that sucker and forced the yarn into my hands and shoved me out the door? No? Damnit. I was afraid of that.
So, I have a little confession to make, and it's probably not going to come as a surprise at this point that it involves yarn. Er, rather a lot of yarn, actually. Wool, and silk, and alpaca, and linen, and camel hair (seriously!), and I mean, who could resist that? It's more than a woman could be expected to take, seeing bags stuffed full of that kind of woolly goodness marked down to $1.98, don't you think?
Yeah. A picture's worth a thousand words, so we'll start with this one.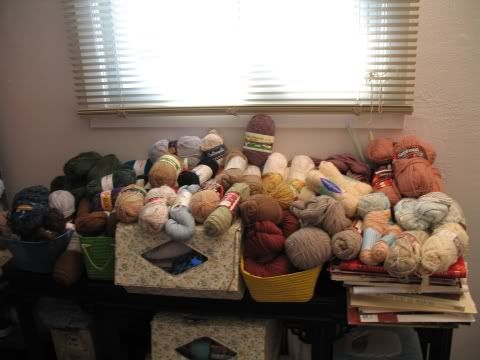 Lotsa yarn, eh? That's today's haul, yep.
Let's break it down some.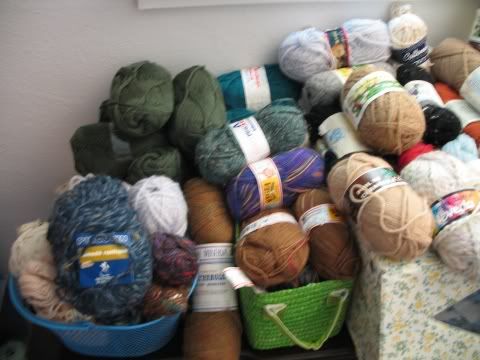 See that pile of green in the upper left-hand corner there? It's darker than it looks in this picture, 9 skeins of a forest green tweed-y wool that's absolutely gorgeous, it's been whispering to me and begging to be knit into a sweater. Just to its right are 2 skeins of teal alpaca and 1 hidden skein of cream; I'm not sure what they want to be, but it'll be soft as a whisper whatever it is. All around it are bits and pieces; green Pingouin Escapade (a wool/linen/acrylic blend); blue Pinguoin Tweed Rustique, some Pinguoin Tweed that says it's 85% wool, 15% vinyon -- wtf is vinyon? whatever it is, I have 2.5 skeins of it; Regia Nomotta sock yarn, 2 full skeins in a beautiful fall brown with flecks of rust and gold and green, a skein of a purple mix and some small balls of other colors. Just to the right of the Regia, see that camel-colored yarn there? Here, look closer:
Yep, there on the left, that would be Poil de Chameau, or camel hair (51% camel, 49% wool). And see the skein of Euroflax Linen in a lovely blue? Can't wait to work with that, I feel a MDK dishtowel coming on. The white towards the upper right? That would be 5 skeins of Paton Linen Look, an interesting blend of acrylic, cotton, linen and wool that just screams summery tank-top to me. Just below and to the right of it, the off-white boucle is Jaeger Crinkle-Spun, 95% wool 5% nylon. And there's more ...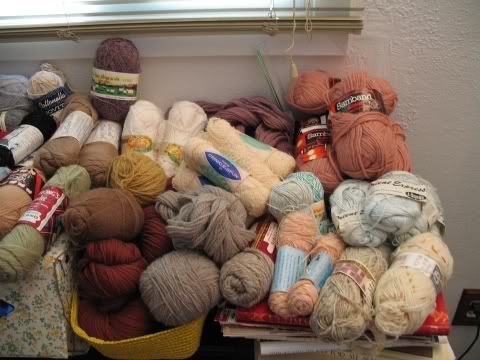 Over on the right, in the middle, that ice blue gorgeousness? That's a bit over 5 skeins of Reynolds Orient Express silk/acrylic blend, and it's incredible in both color and texture, just incredible. Behind it are 4 skeins of pink Samband Lava Icelandic wool. Then there are 3 skeins of Fleishers Mannikin Tweed wool; 3 large unmarked skeins and a couple of balls of rust-colored wool; 2 skeins of a mauve-y tweed wool; a ball of a yellow and green tweed wool; 3 skeins of Columbia Minerva tweed wool & shetland wool; a skein of beige and green tweedy Armstrong & Dundee wool/mohair blend; 2 skeins of peachy Brunswick Coolspun, a linen-acrylic blend; and I'm not listing all of it by far, you can see that, but you get the drift. It's a lotta yarn. And see, the thing is, that isn't bad, right? Great score! Until you see this. I love you all so I'm doing thumbnails, don't click them unless you feel strong.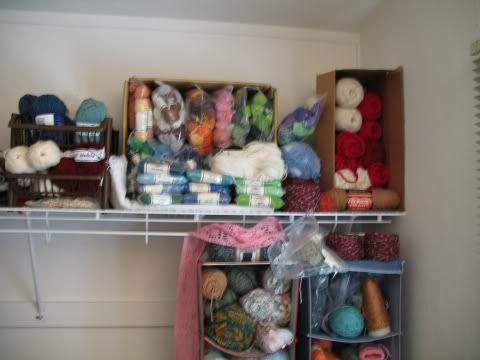 The stash. Actually part of the stash. There's 3 afghans-in-progress worth of stash not shown here, plus a box under the table that today's haul is on. I bought a covered picnic-type basket with some vague idea that I could hide what I did today by stuffing it all into the basket. It's a nice basket. I don't think it's gonna work.
The up side is I only spent, ya'll get your smelling salts or a stiff drink and sit down now, $29.11. Seriously. Yes, for all of it, including the basket. No, I'm not kidding. Yes, I love my thrift store.
The down side is, I better get my butt in gear, because if this yarn starts to plan a revolution we're toast. We're badly outnumbered.
Oh yeah and -- Tempting is done! I gave up and crocheted a neckband, and I'm actually pretty happy with it. It's wool so i won't be wearing it immediately, but it'll definitely be wearable this fall. It's wet and blocking now, pics tomorrow I swear. I'm also done with the T&Q ripple afghan, at least the ripple part of it; I'm going to sleep on it and decide whether or not to add a border or stick a fork in it and call it done.
So, how's your week at home going?