Temptation is a Bitch (posted by Lani)
Gah. Tempting is kicking my ass, and I'm pissed about it -- so pissed, in fact, that I stuffed the stupid sweater, needles and all, into its bag; opened the door to the Pit of Doom; heaved bag, sweater, needles, stitch markers and all into the room with all my might; and slammed the door. It can just sit in there and think about its misdeeds for a while before I'll touch it again, and maybe next time it'll behave. What's wrong? Well, I hate the neckband in this particular yarn (Debbie Bliss Merino Aran) in the k1p1 rib that the pattern calls for. I hate it in seed stitch. I hate it in k2p2. I've done about 10" of neckband in each of those and none of them have been what I'm looking for, which means I've ripped back 3 times, and attaching the damned thing is a royal pain in the butt, and I'm over it. O-V-E-R it.
So I'm working on the T&Q chenille afghan and should finish it tomorrow, but even there finish is a relative word, because hi! My name is Lani, and I'm a dumbass. No, I may not believe airline ticket agents when they tell me my flight is going to be an hour late, but I believe I can eyeball a stack of 12 skeins of yarn and decide to make an afghan wider than any reasonable human would choose to make it and still believe I've got enough yarn to make an afghan and not a very wide lapghan. So this is a ripple 'ghan, and it's nice and wide, probably doublebed size, and plush and heavy and fabulous, but it isn't going to be nearly long enough. And I'm almost out of yarn. And there's no way I'll match dyelots. I'm thinking that what I'll do is buy a couple of skeins of a contrast color, turn the ghan so the ripples run up and down, make a border that squares off the ripply edges and trims the
with the contrast color ... does that make any sense? I think it would actually look pretty neat. Almost like I wasn't a dumbass and planned it that way from the start. This is probably more proof that I'm a dumbass, but I've convinced myself it'll work and by gum I'm going to try it.

Since Tempting is in time-out for bad behavior and I'm in knitting withdrawals (crochet apparently doesn't satisfy those) I also cast on and swatched for Sizzle in some stash Schachenmayer Blue Jeans cotton. It works up nicely and I got gauge by going down to size 5 needles (apparently I knit more loosely than anyone has a right to knit), but -- you knew there had to be a but, right? -- I've only got 6 skeins of the yarn. Which is exactly, precisely, what the pattern calls for. And the comments I've read on this indicate that it's a little short in the torso, which I'm not. And not having even one yard of extra yarn is tempting fate anyway. Sooo ... I'm thinking maybe I'll try to break my dumbass theme and go stashdiving again tomorrow for something in a nice dk-ish weight.

In other news we survived Ernesto quite handily, although there was quite a bit of street flooding and power flickering and our back yard was totally littered with branches and other debris. It's made for a very quiet weekend thus far, though; neither of us have had any desire to fight flooded streets and go anywhere, so we've laid around the house, watched some movies, read some books, and snoozed in the sun. The cats have enjoyed it. Which brings me to my closing thought: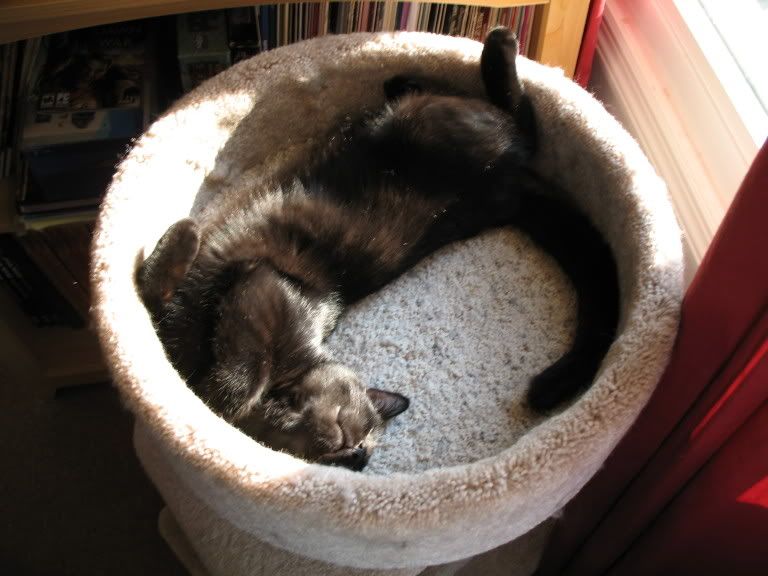 In my next life I want to be a cat.