Garterlaaaaaack! (posted by Lani)
OK, I freely admit it -- I've been bad. I swore I would work exclusively on Mel's baby blanket until it was finished, and I strayed. In my defense I did finish the BODY of the blanket, but I've barely begun the first of the two ruffles, because I was seduced -- I couldn't resist temptation in the form of the
Garterlac
dishcloth. I just could not for the life of me see how this thing could possibly work. Obviously it does, you can see the finished product in the pictures and all, but reading the pattern it made no sense at all to me. I kept going back to it, and going back to it, and finally I just picked up a pair of needles and some cotton and cast on, blindly following the pattern even when what was appearing on my needles couldn't possibly work. It was twisted and lumpy and weird, and it folded back on itself and you know what? It actually works. It's amazing. It's so cool to watch the first twisted misshapen set of little triangles suddenly morph into something worth keeping.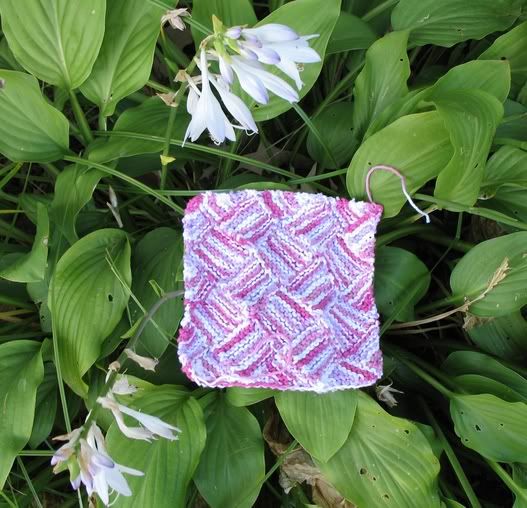 My garterlac is sloppy and amateurish (although it looks MUCH better now that the ends are woven in and it's been washed and therefore kinda-sorta blocked) because I'd never before picked up stitches, and let me tell you also that Clover Bamboo needles are sucky for working with dishcloth cotton and keeping any kind of even tension, and also knitting with a kitten presents new and unique challenges, but even so -- I did it. And you can even kinda tell what it's supposed to be, right? I feel like I've climbed, ok, not the Mt. Everest of knitting but at least I'm into the foothills. Maybe I can hire a knitting sherpa or two and actually keep going, climb higher, scale new heights! I'm inspired, and now I really AM going to finish Mel's blanket because (a) there is SO MUCH MORE to knit, and (b) Laurie just called and told me Mel's being induced on the 30th, so erm, time is kinda running out here.
In other news, I won't be going to Yarn School. Not
this
year, anyway. I have every intention of going
next
year, come hell or high water, so start planning to come with. You KNOW it'll be fun, Annie. But this year, starting October 1st, I'm going to be in training classes 5 to 6 days a week. I finally got my birth certificate and got my passport application in (since, like a big ol' dork, I'd let the old one expire), so I finally got the firm offer and all that jazz. Steve is still hemming and hawing about it; I know he's not happy. No, that's not right; he's happy for me, he's just not happy for what this job means, which is me not being home, like, ever. We'll be doing a lot of talking about that as time progresses; fortunately, we have time to do that talking.
In other other news, I went back to the doctor today. I was really hoping that maybe the stone had passed without me even knowing it, because for the past 3 days I've had no real pain, just a little soreness (and let me just say hallelujah for that). Well, unfortunately. Just kidding! No, the stone hasn't passed (dagnabbit), but after stubbornly staying put for the first week it has finally moved a substantial amount now and it looks like we're in the homestretch. I actually got to see all the x-rays, from the ER and last week and this week, and see what it is that's made my life so miserable. Such a little insignificant thing, really. It should have been bigger, or maybe shaped like a skull and crossbones, or SOMETHING. But anyway -- another round of muscle relaxants, stronger this time and to be taken only at night, and come back in 2 weeks for another x-ray and exam, and hopefully with the news that the stone has passed.
On the family front, I know you've heard from Mom and Dad and so have I; Mom hasn't sounded this happy and excited in I don't know when. I'm so very glad they did this, it's about time. And maybe, if things are wonderful and they have a great time, they'll travel more now. Mom's talked about an Alaska cruise for forever, so maybe ... just maybe ... that'll be next. And on the subject of travel, how's your whirlwind 6-city tour going? Hopefully this weekend will be quieter for you than last, although I have to say the cross-country kickoff DID look fun. The sailing adventure, however, sounded like not-fun to me. You can keep the real pukers, thanks.
And in closing, I talked to Alex today. Our conversation went like this:
"Hi Grammer!"
"Hi, Alex! How are you? I love you!"
"Luyoutoo. Grammer! I need more toys!"
This is a child with a firm grasp on what grandmothers are all about. I'll write more later -- for now, I need to go toy shopping.