Knitting Discoveries, and Being a Worrywart (posted by Lani)
I made some Knitting Discoveries this week, one of which was bad and some of which were good. I decided to knit a couple of squares for
Grandmother Purl
, which managed to not only make me feel good because I was knitting for a good cause, but also let me try some things out that I hadn't previously experimented with.
One of those things I tried was a mitred square out of sock yarn, and I chose bright bright yarn because bright colors, to me, are happy colors -- and let me tell you that mitred squares are the coolest thing since sliced bread. Maybe even since before sliced bread. This was not merely a good discovery, it was a great discovery, because mitred squares are as easy and mindless as ballband dishclothes, maybe even more so. Unfortunately at the same time as making this great discovery I made a bad discovery, and that discovery is: All Sock Yarns Are Not Created Equal. Even if they say on the wrapper that they're the same gauge, they may not actually knit up to the same exact gauge, and as we all know a difference of 1/2 stitch or so per inch adds up over, say, an 8" square. The result of this is that my mitred square, which was striped because I was using random leftover sock yarn, turned out to be a mitred trapezoid.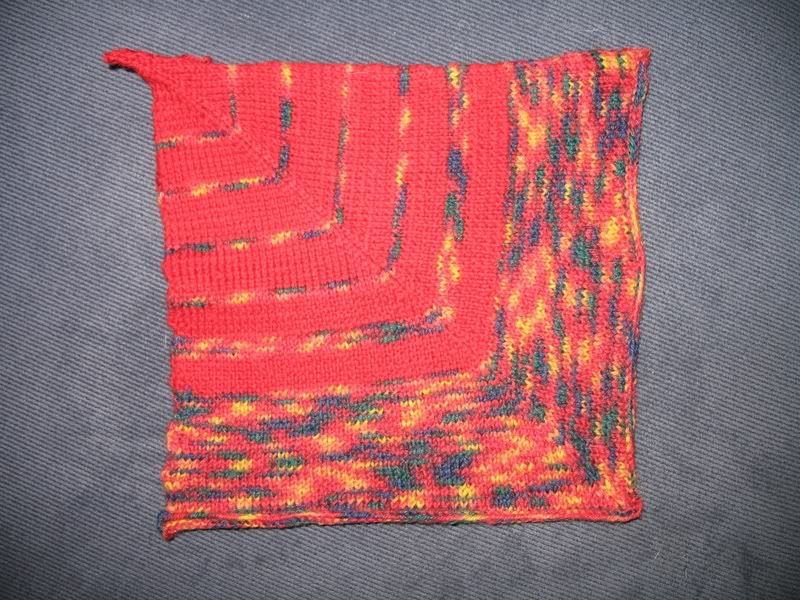 I was able to correct this by extremely severe blocking (even though since it's stockinette it's trying to curl up again already), but I learned a valuable lesson here for when I make my mitred square blanket, which I'm more determined than ever to make now.
The other square I made for Grandmother Purl was out of some of the teal alpaca I got in my last big haul, and the discovery I made here was that alpaca is incredible. No wonder knitters say things like "I swear to alpaca" instead of "I swear to (insert diety here)"; it's fabulous and luxurious and easy to work with and well, everything about it is just wonderful. It may not have been the best choice for the square that I made because its fuzziness prevents the butterfly from showing as well as it otherwise might, but the softness, in my opinion, more than makes up for that failing.
Oh, and that laceweight merino that I dyed a while back and promised to take a picture of?
It's obviously destined to be something springy, probably a shawl but possibly a lacy cardigan. We'll see.
As to the rest of things ... my apologies for being such a bad, bad blogger. I've been kind of in a funk here, and just had nothing much to say. I'm worried; worried about Laurie, who's been sick again, and worried about Jim, who's been I don't even know what to call it, and worried about Jim's cat because Jim isn't stable right now and cats need stability and I should never have let him keep the cat and now I feel guilty because Jim chooses his life, but the cat doesn't have that choice (anybody, preferably in Florida, want a sweet, loving, playful, already-neutered 3-year old orange cat who unfortunately our Hunter hated at first sight?), and worried because Pippin is not feeling well (poor old doggie), and worried that the intermittent ache in my side is another kidney stone (it's probably not but I'm paranoid now), and worried that my car maybe is reaching the point that it is going to need to be replaced (it's only going on 12 years old and has almost 200k miles, this should not be a surprise), and worried that the leak in the bathroom is more than just a leaky fitting (which we'll find out today when I pull the sink apart), and worried that the pansies I planted in the front yard Friday are going to wash away in all the rain we got over the weekend, and ... worried.
Have you ever noticed that once you start worrying about one thing everything else suddenly seems much worse and you go from one worry to a veritable avalanche of worries, or is that just me? Normally I shake it off and move on; for whatever reason, this week my worries have consumed me and aside from the pansies (which did not, in fact, wash away) and a very little bit of knitting (which I should have worried about instead of worrying about the pansies, as it turned out, due to the aforementioned Sock Yarn Gauge Issue) I really haven't done much. Thank heavens for Steve who quietly noticed my funk and did what he could to make it better, up to and including taking me out to dinner and plying me with alcohol Friday night.
Also thank goodness that Laurie is doing better and will go back to work later this week; she's worried about money now after missing over two weeks of work which makes me worry about her for different reasons (here we go again) but -- and this is a good but! -- this has made her really think about the future, which she's needed to do for a while. It's so easy when you're a young newly single mother trying to support yourself to just live day to day and to make bad decisions, but she's made some GOOD decisions in the past two weeks that have been a while coming. Among other things she's used her time off productively; once she started feeling better she hauled out all her tax returns and other paperwork and has applied for a Pell Grant and made an appointment with the financial aid counselor at the college to discuss other financial aid options. Sadly she missed the deadline for Pell for the spring semester by about 2 weeks so she wouldn't be getting that until fall of next year, but the other aid may not have those deadlines ... we'll see, anyway. And regardless, she's finally serious about it. Thank heavens.
As for me, I'm not going to sit here and worry, I swear; I may not be able to turn off the worrying but at least I'm going to multitask. Today I'm going to get my house clean again since last week I even let that slide, and I'm going to start on the alterations on some clothes I have upstairs that with a little tweaking I'll be able to wear once I start to work next week, and I'm going to get back to all the pre-class studying which I didn't touch at all last week.
And as for you -- I love that picture of you on the boat. I don't think you look worried; I think you look pretty and serious and intent, and the guys don't look worried either so obviously they're comfortable with your abilities as captain of their particular ship, and all in all it's a great picture. I'm also glad you got margaritas once you finally got home Friday night, and while I realize that the delay must have sucked I think we all agree that a delay, however long, has to be better than riding an express train into a tornado. Although, I have to say, that whole riding-an-express-train-into-a-tornado thing does sometimes seem like a perfect metaphor for life.