Around here, we love meeces to pieces (posted by Lani)
We'd like to anyway, or at least the cats would like to. And they'd like to do it quite literally, too. I got back home super late Wednesday night and Thursday Steve and I were sitting here when I suddenly heard him say "Whoa!" "Whoa what?" "Jasmine has a mouse!!" "Well, yeah, that's why I buy them, you haven't seen her play with them before?" "Uh, Lani. A REAL mouse." Whoopsie! Fortunately for that little mousie Jasmine never was much of a hunter, and she was apparently as stunned that she actually caught the mouse as it was stunned to BE caught. I pounced on her and made her drop the mouse, Steve scooped mousie up and repatriated it to OUTSIDE the house, and we had a happy ending (all of us but Jasmine, anyway; she's still pouting). Now we have to find an exterminator I guess. I can't bear even the thought of mousetraps, and I don't want to KILL the mice but on the other hand I don't want them in the house either. Anyone with de-mousing suggestions?
In other news! On the table when I got home was a box. A box addressed to me, no less. Whee, I love presents! And this one was a doozy ... a genuine CAT bag of my very own! See?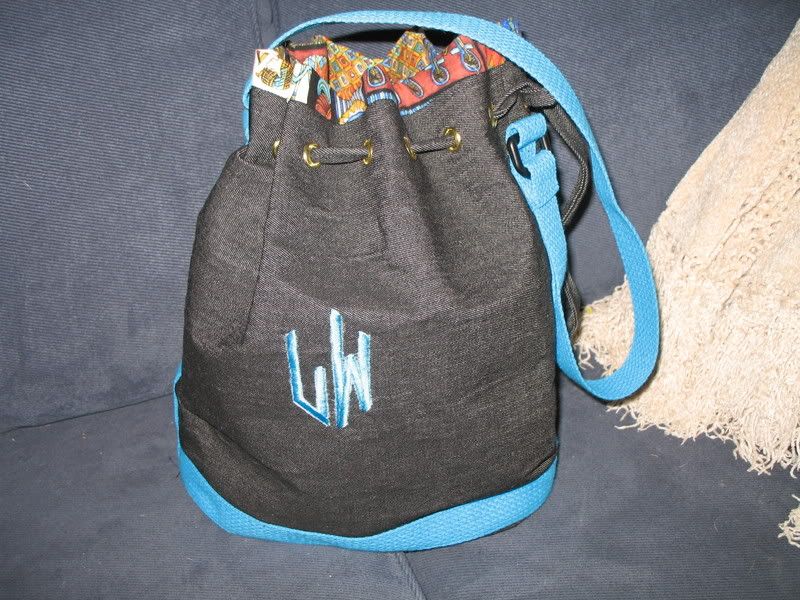 Charlotte, I adore it; you outdid yourself. I can't use it in uniform but I can (and already have!) when I'm off duty -- and I love it, every little detail of it. It's just big enough without being too big, the pockets inside are perfect, and ya'll, she tucked airport flashcards inside with the airport codes and names of all the airports I should visit to see my friends and family. Too funny ... Steve and I got a real laugh out of those. Thank you so much!
As for my flying, well, I haven't been. I've been sitting. I'm TIRED of sitting. I'm getting just a wee bit cranky about sitting, in fact. So I spoke to Crew Scheduling and begged and pleaded, and they promised me that I'd get to fly this round. Getting paid to just sit may sound good, but when you're just sitting in a strange city and you're tied to your apartment and can't go out ... jeeze. Let me fly. Please.
On the up side, while sitting I've been knitting (and crocheting, too). At least I've been somewhat productive in my frustration. We had a cold snap in Philly the first week I was there and I needed a scarf to wear with my coat, so I pored through free patterns and came up with the
Touch of Whimsy
pattern. The company wants you to feel free to exercise your individuality (HA), so your scarf/hat/gloves can be any color you like as long as it's black, navy blue, or grey. With that in mind I rummaged through my stash and came up with some 1824 Mission Cotton in a nice dark grey, and I was off. After a couple of repeats I decided I wasn't nuts about the cables in the middle of the scarf (too bulky with this particular yarn, I think I'd like it better with a different yarn), so I ripped back and started over without the cables and I'm very happy with the result.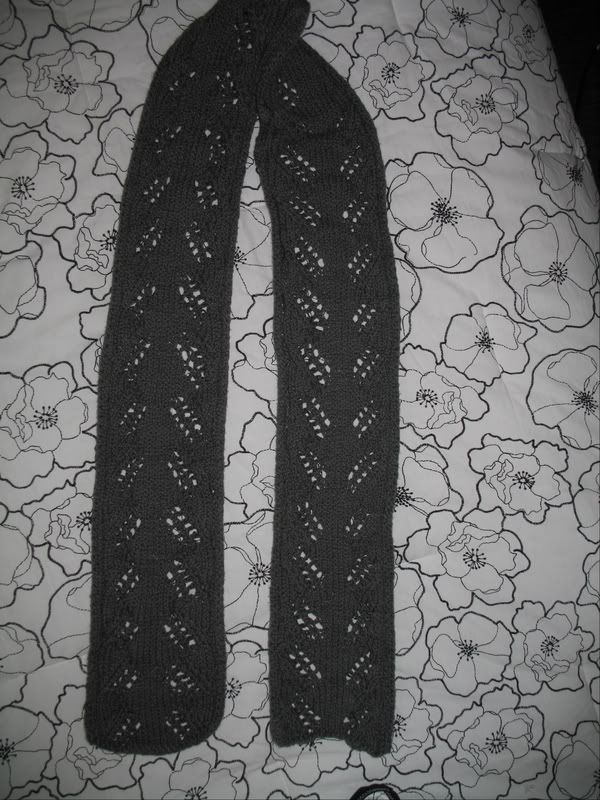 My Whimsy is about 5 feet long so I can wrap it snugly around my neck, or fling it whimsically over my shoulders, the Mission cotton makes it snuggly and cushiony, and the pattern, with or without cables, was easy to memorize. I'll be doing more of these. For now though, currently on the needles is a
panta a/k/a headband
to go with; once that's done I'll be making the
Touch of Whimsy hat
as well. I mean, why not have a matching set?
While not knitting I was crocheting. Remember this? Last seen at Row 51?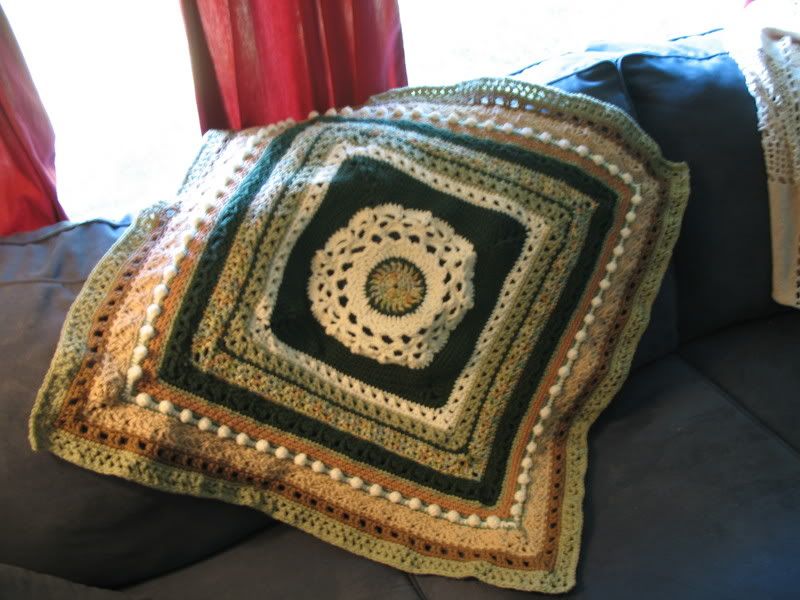 Well, here it is as of last night, at 1/4 of the way through Row 80 of 81 ...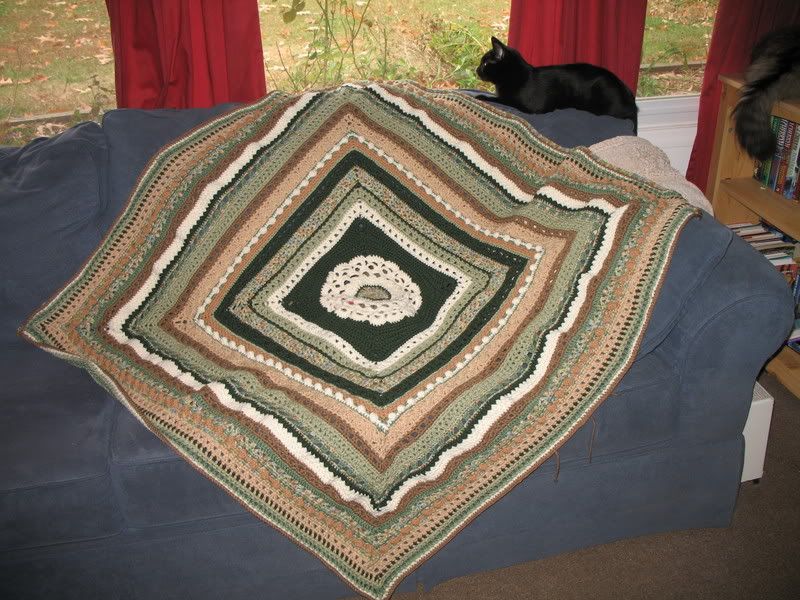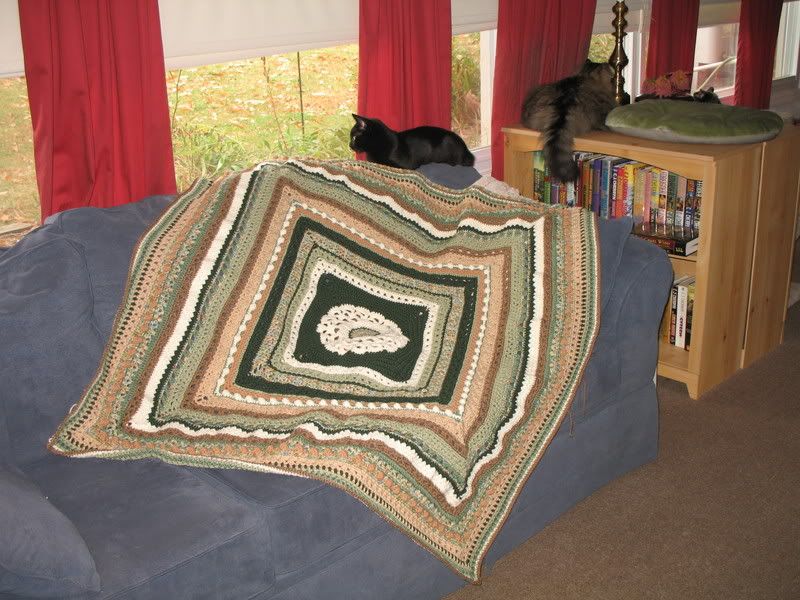 and as of this morning I'm pleased to announce that it's DONE. I'll get it washed and dried when I'm home next, take a final picture, and then wrap it up in pretty paper for Steve to take with him when he goes to see his mom the first part of December. I'm so happy! And despite the seemingly endless rows of single crochet at the end, I do love this pattern and I'll make another of these in the near future, mark my words. For now, though, currently on the hook once again and headed back to Philadelphia with me tonight is ... ta-daaa ... Mom's afghan (aka the 85,000 stitch just-kill-me-now afghan, for those who remember that from earlier this year), at just under 50% complete. See, Mom, I haven't forgotten you!