Flying, Ear Infections, and Good News! (posted by Lani)
Wow, I haven't posted in a LONG time! I'm so sorry ... first I was busy FLYING! FINALLY! and then I kinda sorta got a nasty double ear infection, so I'm grounded until that's resolved. It came at a good time, since Steve was going down to North Carolina to spend a weekend in the mountains with his parents and I actually got to go along, but at the same time I hate having to take sick days. But I'm getting ahead of myself here.
When I last posted I was begging scheduling for a trip; well, they gave me what I wanted. I flew all 5 days of that reserve, and had a great time. I went on duty on Sunday and immediately got a call; off to the airport I went for a quick turn to BGR (Bangor, Maine) and back to Philly. I called in to let them know I was back, and was given a 4-day trip for Monday .. yay! Monday I went PHL-DCA-DAY-PHL-AVP -- Philly to DC to Dayton back to Philly and then on to Wilkes-Barre/Scranton, where we spent the night and the next day. Now, let me just say that the airport in Wilkes-Barre/Scranton is beautiful, but (a) it's in between the two cities so it's in the middle of nowhere, and (b) it's, um, well, empty, and (c) about that in between the two cities thing? There is NOTHING THERE. NOTHING. In a fit of desperation and stir-craziness our pilot and I cajoled and wheedled and sweettalked the hotel van driver into taking us to WalMart -- that was, literally, all there was within 15 miles. Well, unless you count the Arby's and the McDonald's. Ahhh, the excitement. Oh, and about that empty airport? I kid you not. And I have proof ... see?
When we arrived Monday night there was nobody in the airport but a few security people, our disembarking passengers, and us. When we left Tuesday evening there was nobody in the airport but a few security people, and ... us. Oh yeah, and our three whole passengers, count them, three, all of whom showed up at the very last minute. So anyway ... Monday night we left AVP and flew to PHL, and then flew from PHL to YOW. YOW!!! YOW is awesome, let me tell you, and I look forward to going back there in the future. It's a beautiful, beautiful city and I didn't get to spend nearly enough time there.
Wednesday the plan was to go YOW-PHL-ATL-PHL-ISP, but you know the saying about the best-laid plans ... the Thanksgiving Nor'easter was setting in, and so were delays. Our first delay was in YOW, and it was a substantial one. After finally getting underway we received an ACARS midflight saying that our ATL turn was cancelled, and we'd be sitting in Philly until our Islip leg that night. Oh, FUN! They did get us day rooms at the local Holiday Inn so we didn't have to spend 6 hours in the airport, plus instead of a solid day of flying we got to go to a hole-in-the-wall cheesesteak place and I had the best cheesesteak I've had in Philly. YUM. I drool thinking of it. Then back to the airport and off to Islip -- spent the night there, and then Thursday had one of the most ridiculous days that you can have (they happen, but not often); we deadheaded (flew as passengers) from ISP to PHL, worked a PHL-BWI leg (wheee, all 25 minutes of flight time!), and then deadheaded back to PHL. And then, I flew home for a well-deserved few days of rest.
Our (delayed) Thanksgiving was nowhere near as fancy as yours; we did cornish game hens with a moderate amount of trimmings and only one pie, but we thoroughly enjoyed the dinner and the three days I had at home. Back to Philly I went, got no call the first day but did get a cold. Uhoh. Hoped it would get better, it didn't; second day passed, no call, third day I couldn't clear my ears. That scotches flying, period the end; I called it in, was told to go home and see my doctor, and I've been here ever since waiting for this damned thing to clear up. The cold is gone, the fluid behind the eardrums lingers on, and I've gone through the antibiotics and the decongestants and the eardrops and now I'm on steroids. Rah.
BUT! All clouds having a silver lining and all that, as mentioned above I unexpectedly got to go with Steve to Seven Devils, North Carolina to spend a weekend with his parents in a cabin at the top of a mountain. Seven Devils is literally a town on top of a mountain of the same name, with winding switchback-y narrow roads filled with hairraising hairpin turns .. and it's beautiful, the cabin was very, very nice, and we had a great time. A couple of quick pictures; from left to right our cabin; the view from the front porch; and Steve and his parents in one of the many heated games of pool that took place every night in the basement/game room of the cabin.
Steve's mother is an incredible artist with gourds. You know, gourds, the things that grow on vines? Seriously. She uses a Dremel tool to carve them, and paints them with leather paints and textile dyes. I think my favorites are the Christmas ornaments she makes from teensy gourds; here are some of the ones she's given us, some last year and more this year. For proportion, I've included a picture with an ordinary housekey.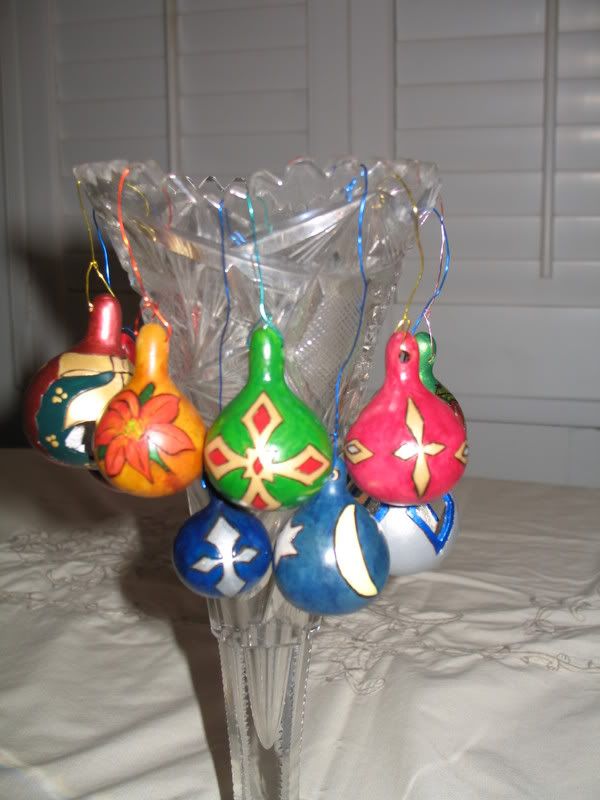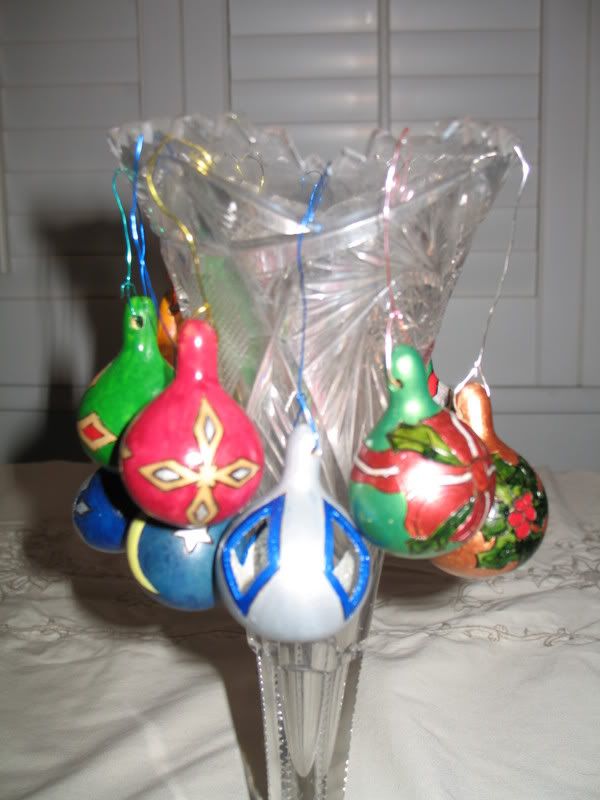 She's also making masks from larger gourds this year, and she gave us two of those, as well as a gourd she decorated with dragons for Steve. My pictures do NOT do the masks justice, by the way. They're each about 11" tall, and they're going to be on the wall over our TV by the end of the week. I'll try another picture then.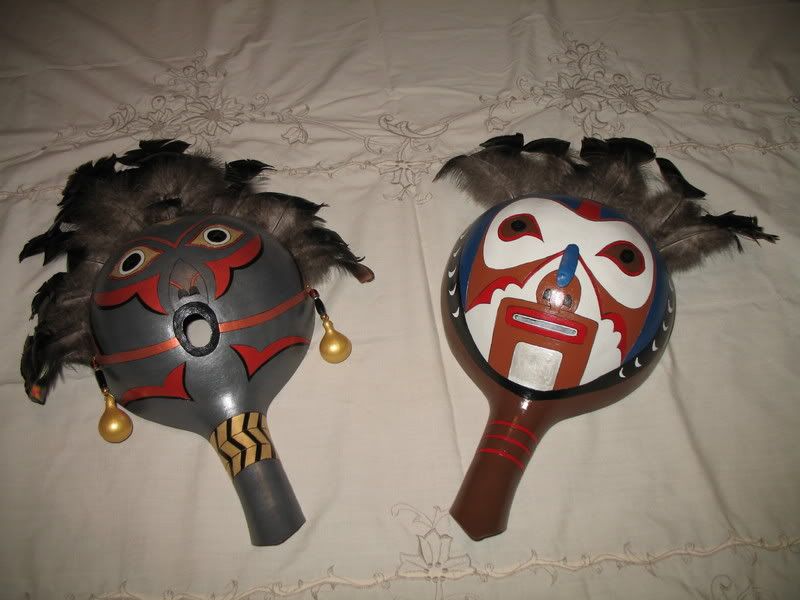 So, anyway ... we got back from Seven Devils Sunday night, tired but happy. I can't go back to work until (cross your fingers) Friday, and then I'll be back home again for three days on Sunday. But, and here's the good news; my transfer came through, and as of January 1, 2007, I'm domiciled in NORFOLK! I'll probably be on reserve for a year or more, but I'll be at HOME instead of in Philadelphia. I'm ecstatic, Steve is ecstatic, and I'm quite sure the cats and the dog and the bird would be ecstatic if they understood. Steve was heartily sick of the whole Philly thing already, and I wasn't looking forward to going through more months of it myself.
I completely feel your pain about the fiddliness of your fish sweater, but it's going to be SO cute! And now you know, and you'll restrict yourself to fair isle or less fidgety intarsia. I've done next to no knitting or crocheting, but I've promised myself that over the next two days, now that I'm feeling a bit better and caught up with housework and laundry and errands and all that, I'll sit down and do some catching up. Yeah ... we'll see how THAT goes!